Featured on Romper.com By Andrea Frazier at https://www.romper.com/p/when-will-george-amal-clooney-bring-their-kids-to-the-us-it-will-be-exciting-trip-2443329
Back in early June, the arrival of George and Amal Clooney's twin daughter and son was a huge deal in the United States — at least for people who obsessively follow celebrity births. Despite all the tweets and news articles that little Ella and Alexander inspired, though, they were actually born in London. In fact, more than three months later, the family hasn't even been to the United States, despite it being George Clooney's home country. So, when will George and Amal Clooney bring their kids to the United States so their fans on this side of the pond can freak out and give them a proper welcome into the world? They certainly have the means to jet over whenever they feel like it, but the Oscar-winning actor and famed human rights lawyer don't seem to be in a rush.
After all, they certainly opted to make England, and not the United States, their home for the foreseeable future for some good reason. Perhaps it was to protect their privacy, or because Amal herself is a British citizen, or maybe they really wanted their little ones to have adorable British accents. Whatever the rationale, they're sure to be quite comfortable in their $12 million mansion located in the village of Sonning-on-Thames, Berkshire, which they purchased in October 2014, Hello Magazine reported.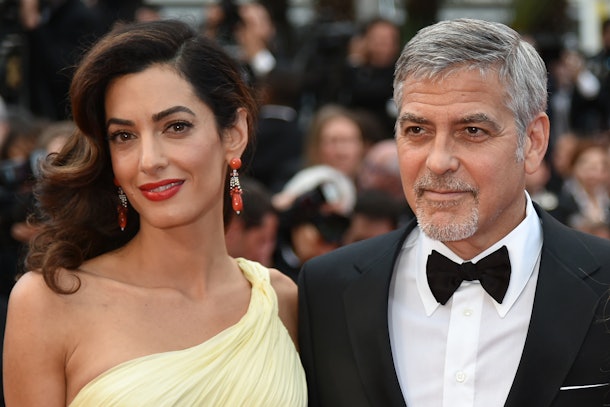 So, it's safe to say that the couple is pretty settled over in England, at least for the time being. An unnamed insider told E! News, though, a couple months before the twins were born that it was too early to know whether George and Amal would have their kids start grade school there or not.
But just because this uberfamous power couple doesn't have any immediate plans that the public knows of to bring their kids to the United States, that doesn't mean that these little ones aren't on the move. USA Today reported in early July, when Ella and Alexander were just about one month old, that paparazzi had managed to get pics of the family of four disembarking from a private jet in Milan, Italy. It was the first time that any of the Clooneys had been spotted in public since the twins' June 6 birthday, and the destination made perfect sense: George Clooney owns a villa in nearby Lake Como.
But what about an American vacation? What are the chances that the fam will pack up camp and join the elite of Los Angeles or New York City?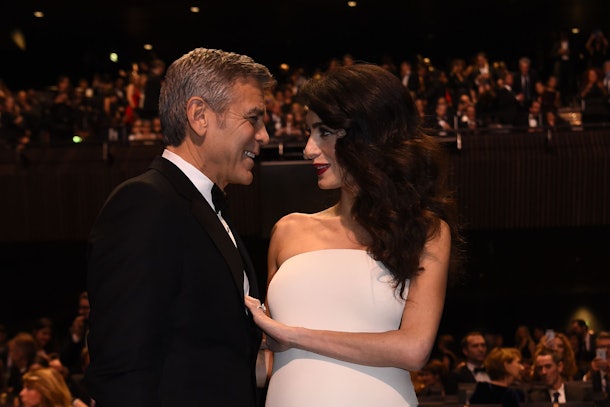 Well, if and when they opt to do that, it will likely be an easy transition for the children, at least from an immigration standpoint. Because George Clooney is an American, his British-by-birth kids shouldn't have any problems securing dual citizenship when they decide to apply for it, family law attorney Atousa Saei recently told People magazine:
There's no restriction on their children having passports from both countries, so that's not an issue. Where they're born will make a difference at first, but ultimately even that won't matter much. They can apply for dual citizenship for the other country, based on the fact that their mom is from the U.K. and their dad is from the U.S.
These kids have parents who are beyond affluent and a mother who is a lawyer herself, so I wouldn't be surprised if the applications for their dual citizenship are already in the works. And that would be good news for George and Amal fans who would love to see their babies touch down on U.S. soil sometime soon. I'm sure living that British life is simply brilliant, but it's just a matter of time until Ella and Alexander's U.S. debut.